Small mammals are important members of Alaska's terrestrial wildlife community. They represent a large proportion of the state's mammalian diversity and play critical roles as herbivores, insectivores, seed dispersers, disease vectors, and prey species. Despite their ecological importance, they receive less attention than other vertebrate groups. As a result, we generally lack comprehensive information on their ecology and conservation. More than 80 small mammal taxa have been described in Alaska, of which more than half are listed as Species of Greatest Conservation Need by the Alaska Department of Fish and Game. Many of these taxa depend on tundra or alpine ecosystems, which are under increasing threat from climate change.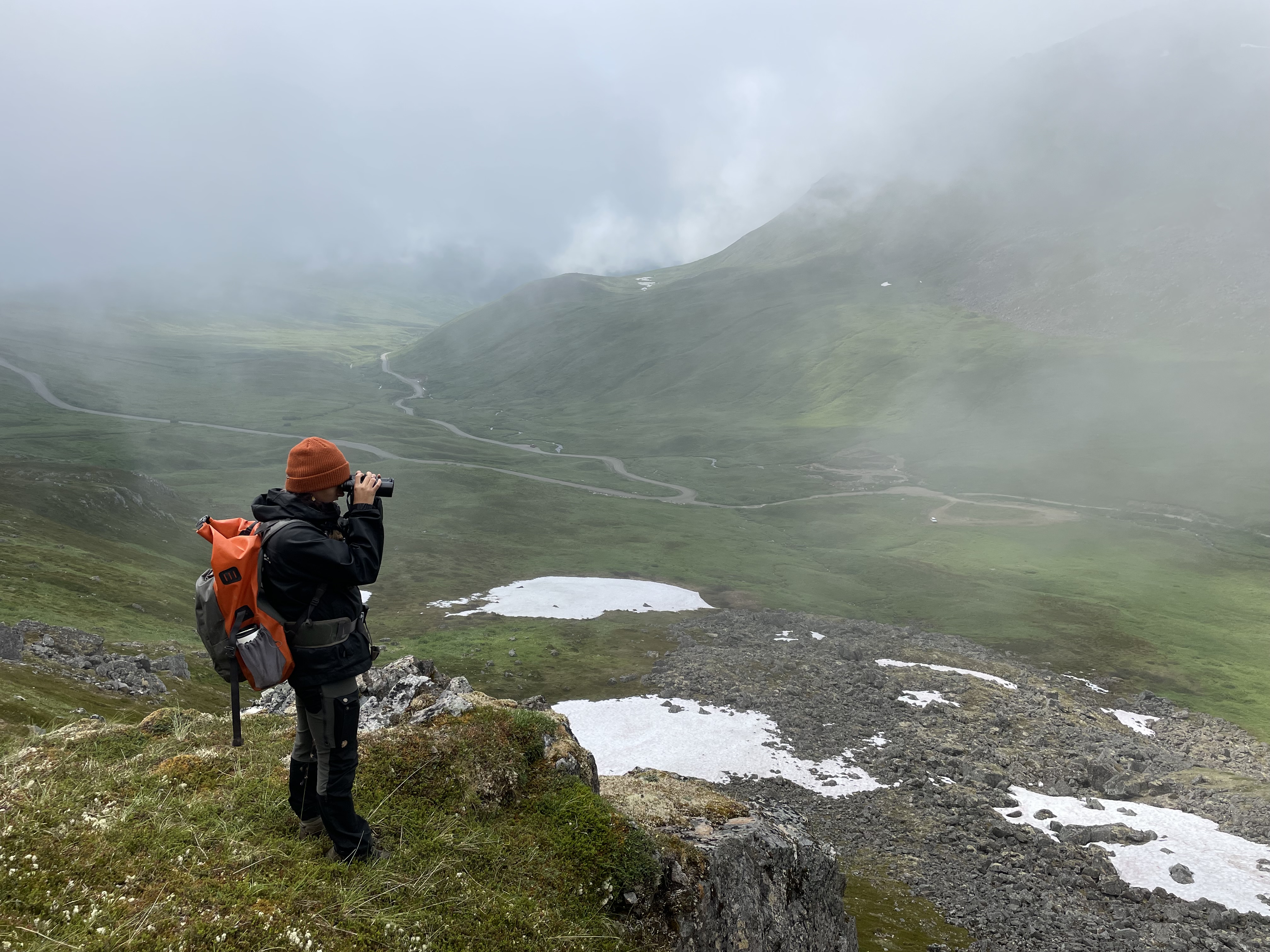 ---
Alaska Small Mammal Group
The Alaska Small Mammal Group is comprised of more than 50 small mammal researchers and enthusiasts, including agency biologists, academics and students from Alaska and Canada.
If you would like to get involved, please contact the group's co-chairs: Andy Baltensperger (abaltens (at) alaska.edu) and Shawn Crimmins (smcrimmins2 (at) alaska.edu).
Mission
To foster collaborative research and conservation of Alaska's diverse small mammal community.
Objectives
Have an annual meeting to share research and management updates.
Produce an annual newsletter sharing all small mammal research in the state, taxonomic updates, and publications.
Identify and periodically review the rank, urgency and goals of small mammal research within the state.
Facilitate cross-taxa collaboration on small mammals in Alaska.
Featured Projects & Species
Photo credits: little brown bat by Jes Reimer, collared pika by Arin Underwood (ADF&G), Alaska hare by Rick Merizon (ADF&G)
Past Newsletters & Agendas
Newsletters highlight current research and monitoring projects investigating small mammals across the state of Alaska each year. Brief summaries of ongoing projects and abstracts from published articles are compiled, as well as a list of recent publications on small mammals in Alaska and taxonomic updates.
2023 Newsletter, 2023 Meeting Notes, 2023 Meeting Recording (passcode: ?pHS4Z*5)
2022 Newsletter, 2022 Meeting Agenda
2021 Newsletter, 2021 Meeting Agenda
---
Bats
White-nose syndrome (WNS) is a disease that affects small, hibernating bat species during winter. It has a 90% mortality rate for infected colonies of the little brown myotis, a common bat in Alaska and the only bat species in the interior of the state. WNS has currently been detected in 31 states and 5 Canadian provinces and has killed over 6 million bats to date. In 2016, WNS was confirmed in Washington State; in March 2023, it was confirmed in southeastern British Columbia.
In 2012, the Northern Bat Working Group was established to foster communication and collaboration among bat researchers in Alaska.
Bats in Winter
Learn more about wintering bats: Locations, behavior and potential risks of WNS in Alaska.
Bats in Summer
Since female bats return to the same roost each summer, investigating and monitoring populations at these roost sites can provide valuable information about population health.
Sign up here if you are a homeowner with a summer bat roost and would like to learn how to count bats once per summer.
The summer citizen science project has its beginnings in maternity roost surveys conducted from 2016 to 2018. With the help of local residents, the efforts discovered 24 little brown myotis locations throughout Alaska, including interior, south-central, the Kenai Peninsula, and Southeast Alaska. It also included acoustic monitoring, capture surveys, roost temperature profiles, and radio telemetry to assess bat movements.
Learn more about our 2016 maternity roost surveys.
---