Current
Alaska Bee Atlas:
This is a collaborative program to collect bees and associated habitat data by federal and state biologists in Alaska. Participating scientists are filling data gaps on Alaska's insect pollinators. Please see the Alaska Bee Atlas Page for more information.
Past
Steppe Bluff Study
The Alaska Center for Conservation Science (ACCS) initiated a bee monitoring program in Interior Alaska from 2017–2019 (with support provided by our state partners at the Alaska Department of Fish and Game) focused on the Steppe Bluff habitats; an ecosystem suspected to harbor a large diversity and abundance of solitary bees. This inventory effort has provided substantial data on the temporal habitat use of this rare ecosystem by pollinators. ACCS collected at least ten new species records for Alaska, the first male Osmia maritima in North America, and have molecular support for potentially undescribed taxa. Manuscript in preparation.

Homostylous and Distylous Study:
Carlson, M. L., S. D. Gisler, and S. Kelso. 2008. The role of reproductive assurance in the Arctic: a comparative study of a homostylous and distylous species pair. Arctic, Antarctic, and Alpine Research, 40(1), 39-47.
See the publisher's website for the full article.
This study compared the reproductive ecology between two plants found in Alaska, Primula eximia and Primula tschuktschorum. P. eximia is a common plant that has homostyly and appears to be surpassing the reproduction of P. tschuktschorum, a rare plant that has distylous and depends on pollinators to assist in reproduction.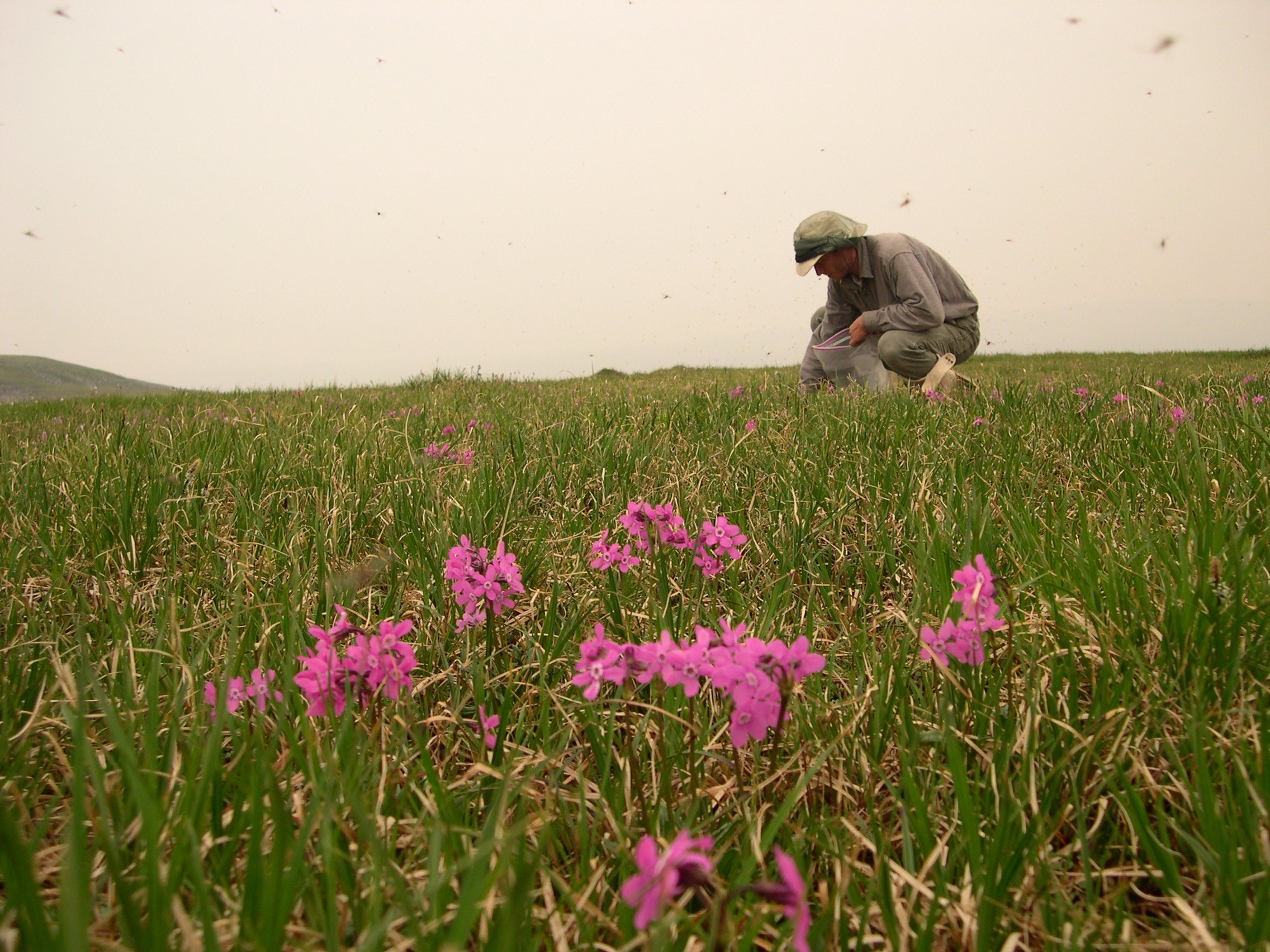 Parrya nudicaulis Studies:
Fulkerson, J. R., J. B. Whittall, and M. L. Carlson. 2012. Reproductive ecology and severe pollen limitation in the polychromic tundra plant, Parrya nudicaulis (Brassicaceae). PLoS One, 7(3), e32790.
See the Plos One webiste for the full article.
Carlson, M. L., and J. R. Fulkerson. 2022. Phenotypic selection on floral traits in the arctic plant Parrya nudicaulis (Brassicaceae). Ecology and Evolution, 00, e8624.
See the Ecology and Evolution website for the full article.
Because arctic and subarctic regions are expected to be pollen-limited, two studies were conducted on P. nudicaulis populations in Alaska. The reproductive ecology of this species was investigated to estimate the degree of pollen limitation. Additionally, the selection of P. nudicaulis was assessed in open-pollination vs. pollen augmentation treatments as well as phenotypic selection on floral traits.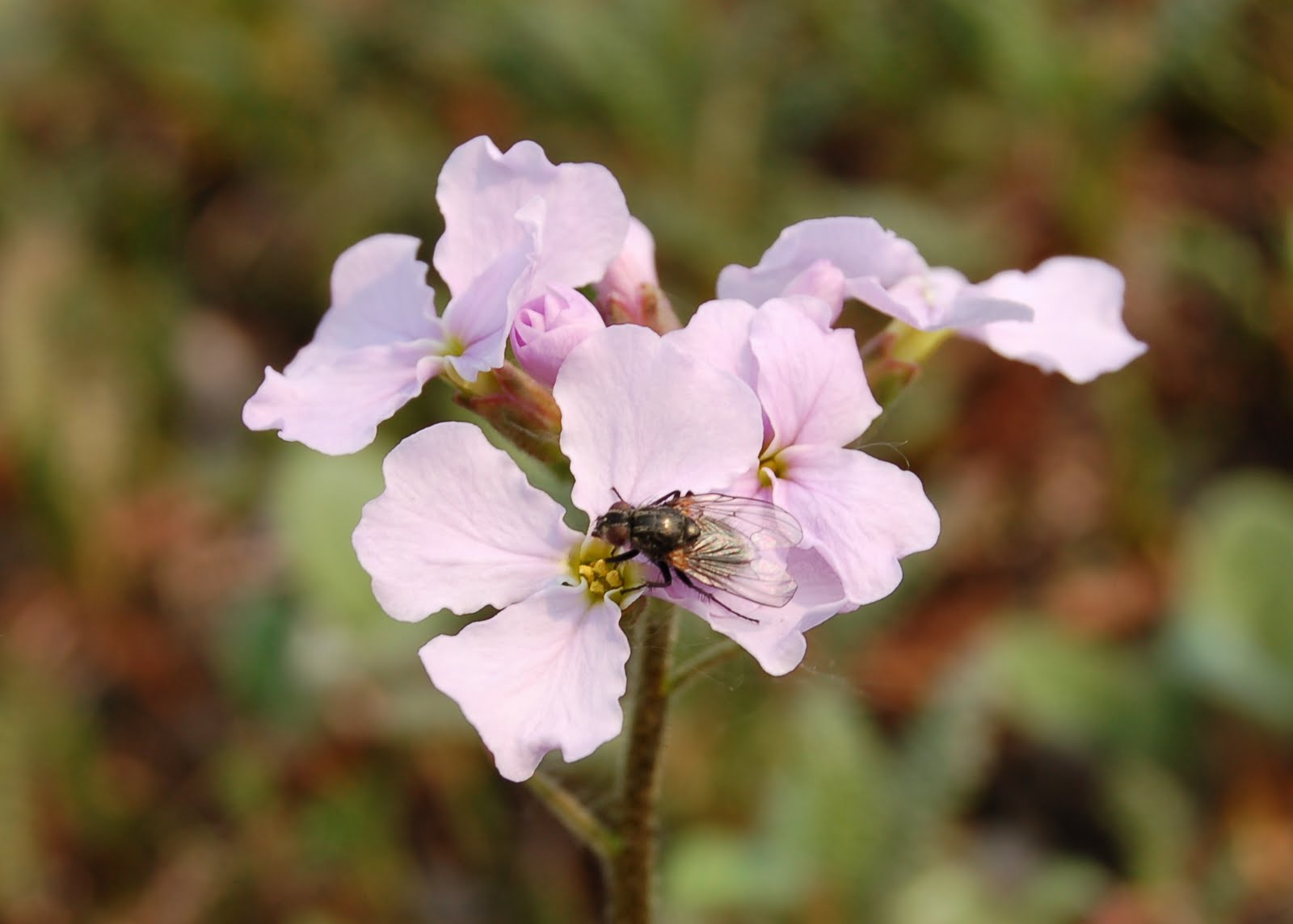 Mellilotus albus Studies:
Spellman, K. V., L. C. Schneller, C. P. Mulder, and M. L. Carlson. 2015. Effects of non-native Melilotus albus on pollination and reproduction in two boreal shrubs. Oecologia, 179(2), 495-507.
See the publisher's website for the full article.
In Alaska, Melilotus albus, white sweetclover, is considered an invasive species. Because it's highly attractive to pollinators, there is a concern that it may have negative impacts on native plants by drawing away pollinators. This hypothesis was tested by comparing boreal plots with introduced sweetclover with clover free control plots and recording pollinator visitation and diversity, as well as seed production in Vaccinium vitis-idaea and Rhododendron groenlandicum.

Spellman, K. V., C. P. Mulder, and M. L. Carlson. 2016. Effects of invasive plant patch size and distance on the pollination and reproduction of native boreal plants. Botany, 94(12), 1151-1160.
See the publisher's webpage for the article.
This study focused on the on the effects the non-native Melilotus albus , sweetclover, had on Vaccinium vitis-idaea and Rhododendron groenlandicum in relation to distance. It included control plots with abundant V. vitis-idaea, R. groenlandicum, and no sweetclover, and plots with abundant V. vitis-idaea, R. groenlandicum, and sweetclover added in the center. Pollinator visitation and seed production were measured across the plots and analyzed for distance from the center.

Schneller, L. 2018. Invasion by the non-native plant Melilotus albus (white sweetclover) affects plant-pollinator interactions in oreal Alaska. Doctoral dissertation, University of Alaska Anchorage.
See the Proquest website to access the dissertation.
This thesis focused on the plant‐pollinator interactions between native plants and non-native Mellilotus albus, and then compared "pollinator visitation rates, richness, Shannon's Index of Diversity, and the network properties of connectance, nestedness, and links/species between sites with and without M. albus."